Sunglasses are great fashion accessories. They come in all shapes, sizes, colors and designs. This great invention is not only a great fashion piece but they act as a guardian to your eyes' health. Sunglasses keep dangerous ultraviolet light from getting into your eyes and the skin around them so people should wear them in any outdoor activity such as working, driving, participating in sports, taking a walk and running errands. The sun's brightness and glare interferes with a person's vision and the ability to see clearly by causing people to squint and the eyes to water. If you are driving they also help you see the road better because it keeps the sunlight away from your eyes. The glasses prevents you from getting skin cancer and keeps your eyes from getting sunburn and cataracts. When purchasing a pair of sunglasses, always choose polarized lenses because they are the most effective when blocking out glare. High quality glasses are not necessary but if you buy a cheap pair make sure that it has a seal of acceptance on it. There are so many different sunglass brands to choose from. Below is a list of a few top sellers.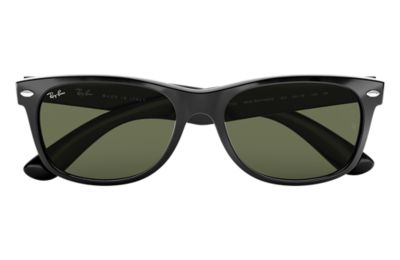 Ray-Ban New Wayfarer Sunglasses
These popular polarized sunglasses are made of propionate frames with plastic along the front and temple. They are lightweight, comfortable, durable and has the ray-ban signature logo on the lenses.
WearMe Pro – Classic Half Frame Polarized Semi-Rimless Rimmed Sunglasses
The WearMe Pro are clubmaster sunglasses that are light weight so they won't feel heavy on your face. The lenses are polarized which provides eye protection. The glasses are unisex with shatter resistant plastic lenses.
MERRY'S Unisex Polarized Aluminum Sunglasses Vintage Sun Glasses 
Merry's Unisex Polarized Sunglasses are stylish glasses with metal frames and composed lenses that reduce the sun's glare.

Livhò Sunglasses for Women, Cat Eye Mirrored Flat Lenses Metal Frame Sunglasses UV400
These new age flat mirrored women sunglasses come in a pack of 2. The lenses are non polarized but they provide anti glare lenses that filters out the sun and protects you from UV rays. The thin metal provides stability for your face and the nose pads make it a more comfortable fit on your nose. They are also scratch resist.
Polarspex Polarized Unisex Trendy Stylish Glasses
The Polarspex high performance polarized lenses has 100% UV protection and will keep out the glare from the sun. The metal hinges are durable so you don't have to worry about them breaking easily.
Sojos Classic Aviator Mirrored Flat Lens Sunglasses Metal Frame with Spring Hinges SJ1030
The Sojos are modern aviator sunglasses with a beautiful teardrop shape. The unique flat lenses has a thin metal frame and protected polycarbonate lenses.
Sungait Ultra Lightweight Rectangular Polarized Sunglasses 100% UV protection
Light weight and polarized, these shades will hold together well while you are performing extreme sports activities.